Stories of antivaxxer deaths from covid
---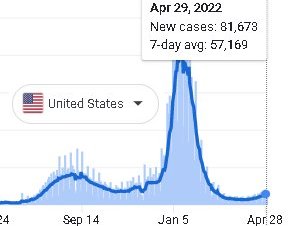 April 29,2022
---
Disinformation


---
Disinformation Dozen
---
Study: 20 million Medicare beneficiaries.
Claim: 5.6 million vaccinated resulted in 148 thousand breakthrough covid cases, 30,000 hospitalizations, 9,400 ICU and 3,256 deaths.
Result: 148,000 / 5,600,000 = 2.64% breaktrhough cases, 0.54% hospitalizations, 0.17% ICU and 0.058% deaths.
97.36% efficacy from breakthrough and 99.942% efficacy from breakthrough death.

This study did not show the results from the 13.4 million unvaccinated. But given the current statistics -- 86% of covid cases are unvaccinated, 90% serious are unvaccinated and 99% of deaths are unvaccinated we can imply: 888,000 unvaccinated cases
300,000 serious cases

Disinformation site - The Daily Expose


Truth

---
May 3, 2022, USA 578 million vaccines given
(247 Million at least one dose, 219 Million fully vaccinated).
Antivax claim over one to two million adverse effects, 2,000,000 / 578,000,000 = 0.0035 or 0.35% adverse effects
The vaccines are 99.65% safe.

Only more than 20 million can drop the safety below 95%.

Covid cases and deaths YESTERDAY (May 2, 2022)
83% to 86% cases are unvaccinated. 95,854 X 83% = 79,558
99% of deaths are unvaccinated (391 times 99% is 387)

US population is 333,746,056
260,989,415 Americans have had at least one shot.
72,759,640 are unvaccinated.
Subtract those who have already had covid and
50 to 80 million are still vulnerable to Covid-19.

1,760,310 are being vaccinated every day (mostly kids).
It will take two to three months for all to be vaccinated.

Meanwhile two to nine million unvaccinated will suffer COVID - 19 and 144,000 vaccine refusers could die.


---

LONG TERM EFFECTS?

Anti-vaxers claim all vaxxed will die within 2 to 3 years.

No vaccine had side effects more than a week after innoculation.

100 million were fully vaccinated by April 20, 2021.
In seven months some should already be dying. 5%?

Someone should have noticed five million deaths by now.


---

Information about Covid-19
Myocarditis
Ryszard Rakowski and Vinu Arumugham posted on Quora "In Pfizer's covid vaccine trial of 57,000 3 of the vaccine and only one placebo got myocarditis" followed by pages of difficult mathematical formulas to prove the vaccine caused the myocarditis. A sample size of 4 out of 57,000 is insignificant, but I researched and found the following:
2,500,000 vaccines in Israel there were reports of 54 myocarditis
0.002% small number
500 million vaccines in US - reports of 1,626 myocarditis
0.0003% Tiny number 3 per million
Mar, 2020-Jan 2021 cdc reports 146 cases per 100,000
Much larger

The vaccines are much safer for myocarditis from vaccines than covid.
Normal incidence of myocarditis per year 1.5 million .02%

The inescapable conclusion is that vaccines have a incidental protection from myocarditis as well as being highly effective against covid.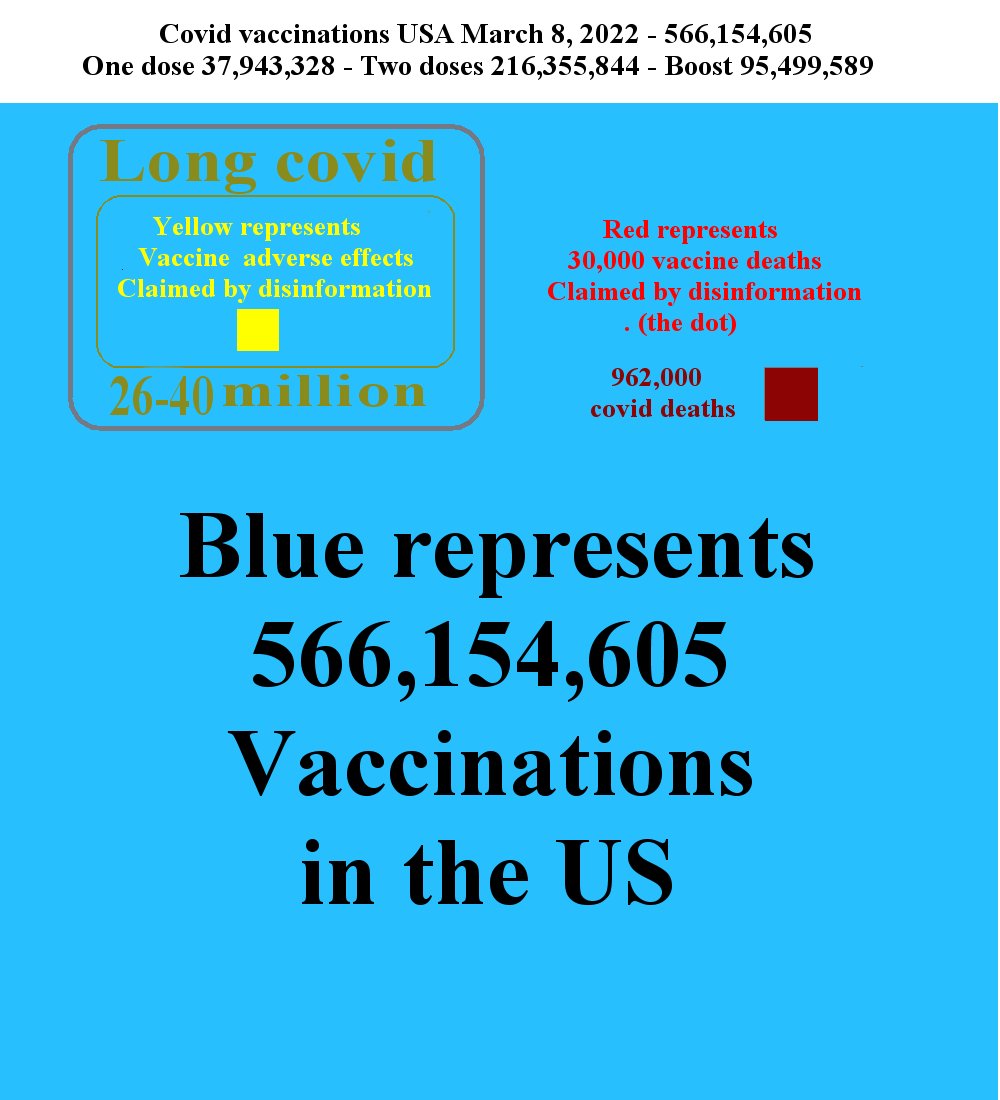 Right-click to see detail

Right-click to see detail

Right-click to see detail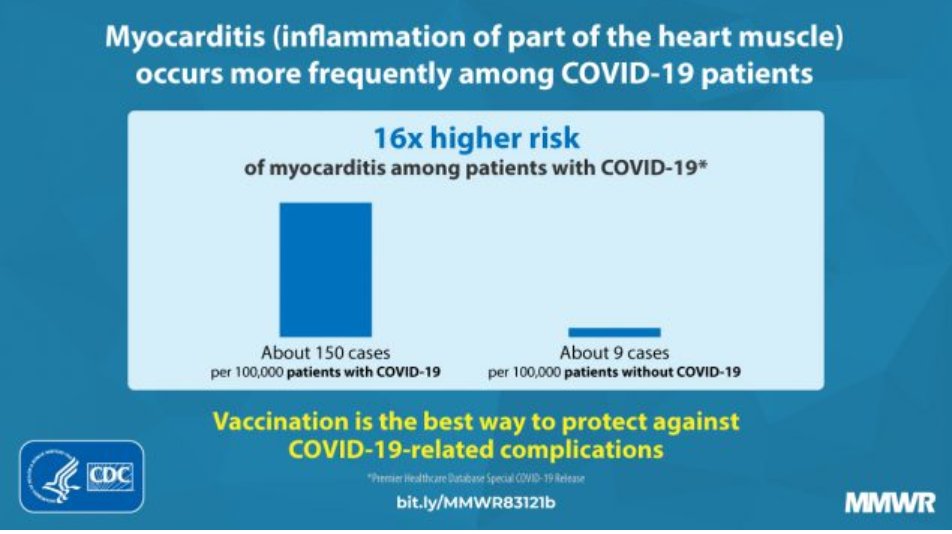 Myocarditis occurs much more frequently among Covid patients.
150 of 100,000 with covid-19. Only 9 of 100,000 without covid.
Right-click to see detail